Visual art and placemaking for happy, healthy spaces.
I help people who manage or design public spaces to bring delight to the public realm, whilst involving local people. I deliver holistic site-specific projects: from initial site research and public engagement workshops, to creating colourful graphics and bespoke public art.
If you have a space that could use brightening up, or are interested to collaborate on a placemaking project as a designer, drop me a line for an informal chat. To get a feel for how I work, see this writeup of a recent mural project or read on for what projects typically involve: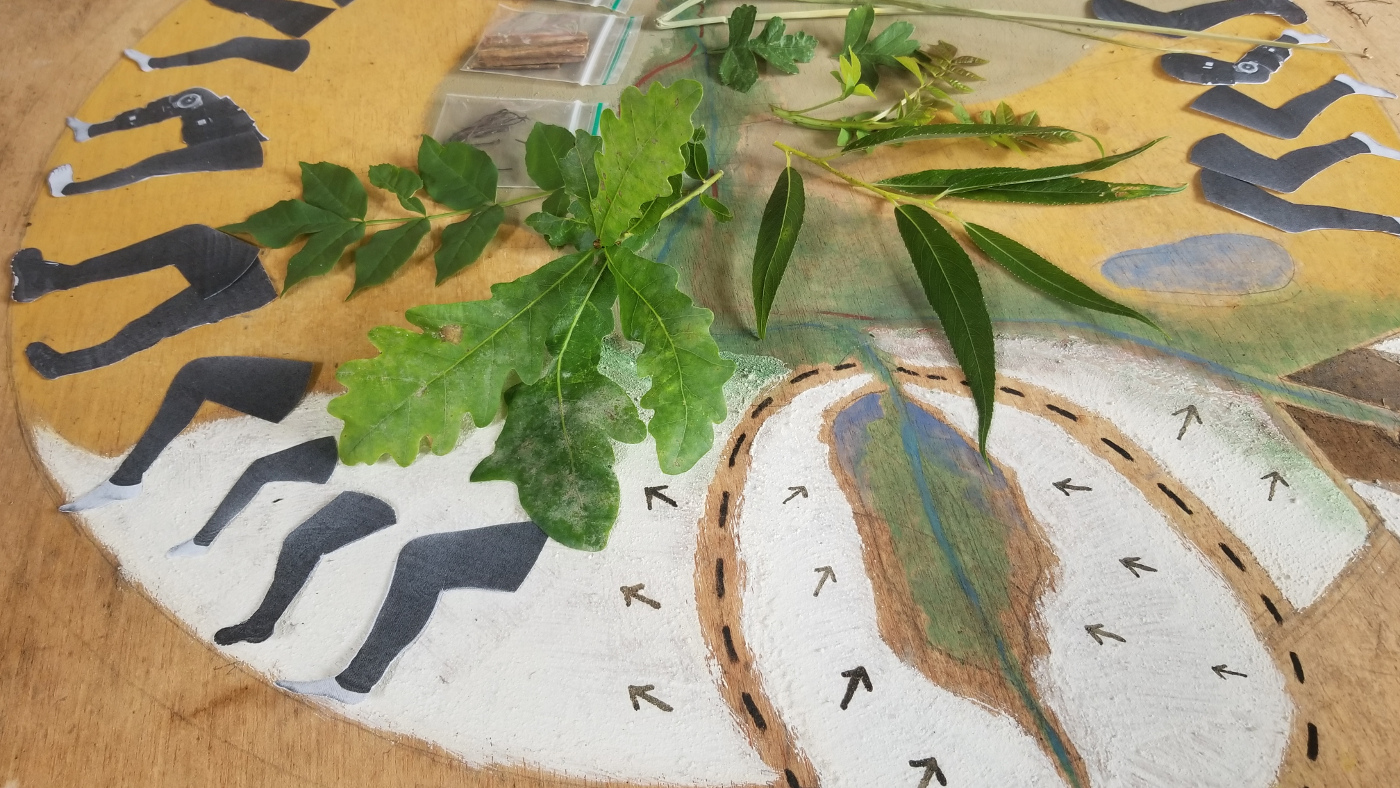 Research
I'm fascinated by embodied and arts-led ways of researching a site. Through workshops, walks and art-making, I work with groups to research the past, present and possible futures of the place.
Workshops
Holding space and engaging with people is at the heart of my practice - from generating ideas and researching a site, to sharing practical skills. I bring years of experience working in facilitation and mental health focussed roles to create safe spaces for people to play and explore with ideas and creative media.
Murals
Bespoke murals designed for your site, following a process of research and consultation. I use a range of finishes depending on the site and budget, from colourful weatherproof acrylics to natural pigments. Murals can be applied direct to walls, or painted off-site onto removable panels. I'm particularly interested in using mural decoration to cover multiple surfaces, creating an interplay with the underlying architecture or street furniture.
Illustration
Alongside work on-site and in person, I create handmade illustrations. These can have a wide range of applications, from printed flyers and booklets to document your project, to web graphics, merch and mural designs.
Previous projects have included...
Designing illustrated flyers for a social enterprise
Designing and installing a new mural in an unloved carpark, after working with a local youth group to research the site and generate visual ideas.
Running workshops with an allotment-based recovery group, to make paper and inks from the plants they had grown
Working with a young women's group to redesign their local park with gender equality in mind, then transforming their ideas into an illustrated publication and on-site public installation
Delivering a workshop on self-care and healthy communication to tackle burnout, for a grassroots arts collective
Delivering intensive training sessions on group dynamics and healthy collaboration skills for an art school Masters course
Working with a women's charity to design new visual materials and murals for their counselling waiting room
Designing an illustrated self-guided tour to promote walking and cycling
My background
I studied visual art at Oxford Brookes University and Piet Zwart Institute, Rotterdam, focussing on collaborative and community-based practices. After finishing art school in 2013 I undertook additional training in mental health work, and worked for over five years in frontline mental health roles as well as training in group facilitation through various activist and community projects.
I have expertise in meeting facilitation, active listening and person-centred self care work, as well as supporting people to develop healthy boundaries and collaborative practices. In my visual art practice I specialise in translating handmade illustrations into digital, print and mural designs with a focus on site-specific community based projects. I have a keen interest in the role of liveable places to enhance health, and recently undertook a Foundation Certificate in Urban Design as well as Arts Council-funded training with a feminist urban design studio, to look at ways for public art to support active use of spaces by more diverse groups.
My favourite projects are ones where I get to bring these skills together, supporting organisations to maximise the potential of their place, by imagining possible futures together and giving these visual form. I'm particularly interested in opportunities for collaboration on projects bringing together healthy placemaking, mural art and architectural design.
Do you have a place or project in mind? Drop me a line!