New murals for a therapy waiting room
As a visual artist specialising in commissioned work such as murals, I often get asked what's involved when you commission a mural, and how exactly the process works. Here I share a behind-the-scenes look at a recent project from start to finish, showing the opportunities that visual art creates, not only to make a space feel more enjoyable to spend time in but also to engage with the community who will use it, and honour the history of the space itself.
What is trauma-informed placemaking?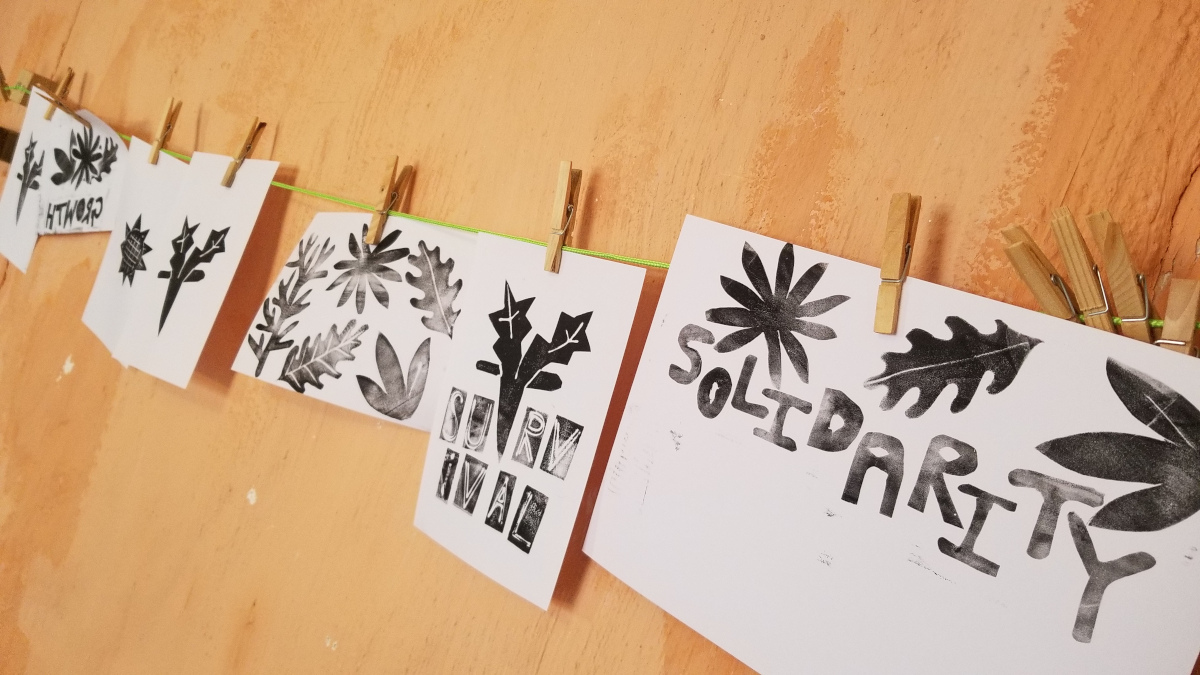 Trauma-informed design is a term growing in popularity, describing an approach to placemaking which takes into account what we know from neuroscience research about the physiological need for peaceful spaces with soothing sights and textures, in the design of buildings for stressed-out service users. It's particularly relevant for people who run spaces such as homeless shelters, healthcare facilities and support centres for survivors.
The pioneering work of trauma therapists like Pat Ogden and Bessel van der Kolk has established that effective support for trauma must begin by establishing a grounded sense of safety in the present space and in the body. At Oxford Safe Haven, the crisis centre where I used to work, some of the most valuable interventions we offered were the provision of dimmable lamps, soft cushions and blankets and a quiet secluded space with access to the outdoors, to facilitate natural de-escalation of the body's fight or flight response. (For more on the sensorimotor approach to trauma, I can recommend the excellent resources and training offered by the Complex Trauma Institute.)
The commission
I was delighted to be commissioned by OSARCC, an organisation which has been supporting survivors of sexual violence since 1979. The brief: use mural art to help make their counselling waiting room feel more warm and welcoming to service users.
With the help of a grant from the B&Q Foundation, there was an opportunity to use mural art to make a big difference to the look and feel of the space, without needing a large or ongoing budget. The staff and volunteers had already done much to create a soothing atmosphere with tactile velvet-covered chairs, pot plants, rugs and thoughtful decorations to help the space feel inviting. But they were left with a problem: the blank walls.
Studies have begun to produce evidence of what we know instinctively, that looking at blank walls can be stressful. Our brains seem to prefer complex imagery, especially with a certain degree of fractal complexity similar to that found in nature, and on the other hand to respond with elevated stress levels to blank walls. Which might make mural art one of our oldest known tools for trauma informed design! So, how do you go from blank walls to a welcoming new waiting room?
Step 1: Visual research
OSARCC has a rich and proud history as a feminist collective starting in the 1970s, and I felt it was important to incorporate this into my new designs, nurturing a 'sense of place' for both service users and staff. After an initial visit to discuss their hopes for the commission and to measure up the space, I worked with staff to access some of their archive material including beautiful handmade posters going back over 30 years. Motifs of the sun and sunflower were important symbols, as well as decorative patchwork quilting - all of which I used as reference points when working up new designs.
Step 2: Engagement & design workshops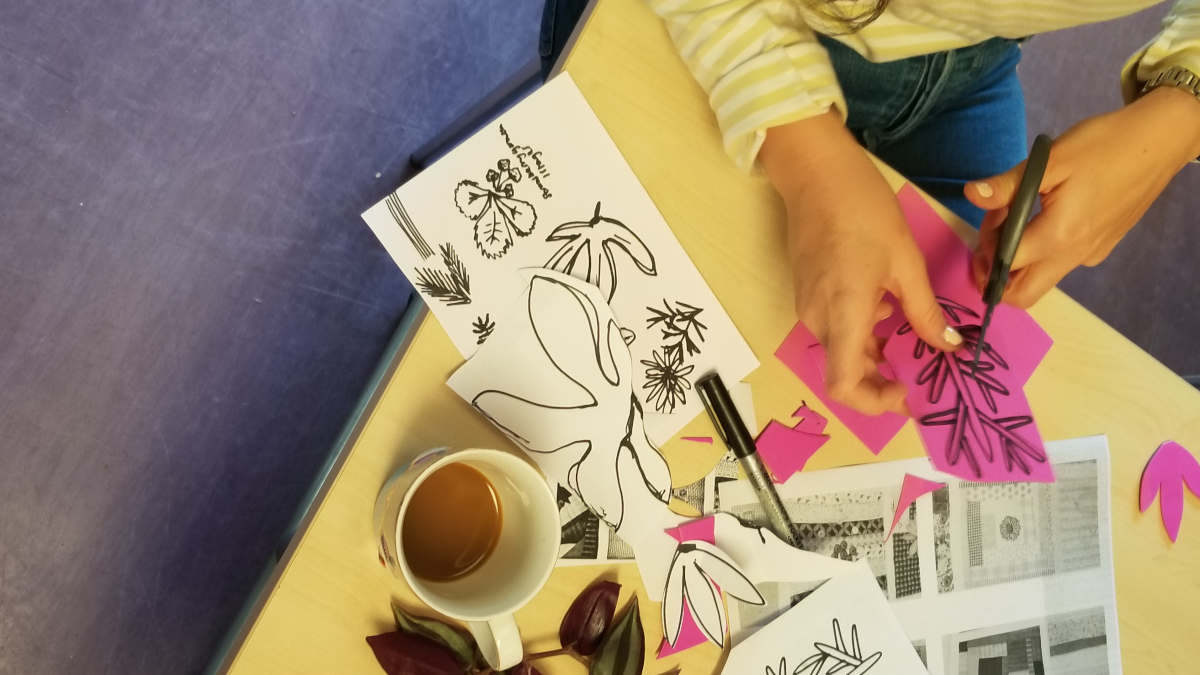 I love to facilitate workshops which create a safe space where people can play with materials and designs without pressure. This gives clients or allied community groups a window into the creative process, inviting them to be part of the journey of letting appropriate designs grow naturally out of the specific place we're working on. For this this project, I designed and facilitated a wellbeing-focussed craft session for members of the OSARCC collective. We did a number of guided activities to help generate designs, with an emphasis on creative exploration and no drawing skills required!
Step 3: First draft, and spinoff designs
Following the workshop session, I scanned the prints we'd created onto the computer and begun to elaborate these into digital designs. A number of options were shared with the staff team who reviewed them and gave feedback, after which tweaks were made to a final set of designs. As these were created digitally they could easily be printed onto different materials, and formed the basis of a new range of OSARCC merchandise to help fundraise for their work. In this case, the designs were simply uploaded to the organisation's Teemill online shop, with revenue coming in each time a print on demand item is ordered.
The mural design itself was also created digitally, overlaid onto photographs of the space, and shared with the team for feedback before final colours were agreed. The designs took inspiration from the OSARCC sunflower motif, and the hand-made Reclaim the Night poster contrasting night and day. Read left to right, the murals subtly tell a story about little seedlings starting out in the dark and gradually growing brighter and stronger in the sun. I hope this visual narrative in the murals will help to instill in waiting clients a sense of hope in the therapeutic process, giving visual form to the journey they will be undertaking.
Step 4: Installation on-site
The choice of materials and correct preparation of the surface is essential for the success of a mural work, and I've built up a range of materials for different types of wall and setting from working on previous commissions. For this project, I chose a pricey range of natural paints as I wanted the mural to have a durable low-maintenance finish, which also had a soft, warm texture to the paint. It was worth spending more on luxury materials in this small space, where the surface needed to hold viewers' fascination at close quarters for a prolonged period. (For larger-scale work such as outdoor murals, I use the much more affordable paints designed for exterior wood and masonry.)
Before chalking up the design to scale using printouts, I did some small scale tests of the colour combinations and textures, to check they worked together and didn't clash with existing furniture. The space was booked out for three days when it wasn't required by service users, when I came and did all the wall prep and painting. The walls were in fairly good condition and so an undercoat wasn't needed, but I did remove some screws and use a little filler to give a good surface. (For an outdoor mural, especially where the wall has been neglected for some time, a day or more may be required at the start for cleaning and underpainting. Costs of a mural can be reduced by arranging this in-house yourself.)
The finished waiting room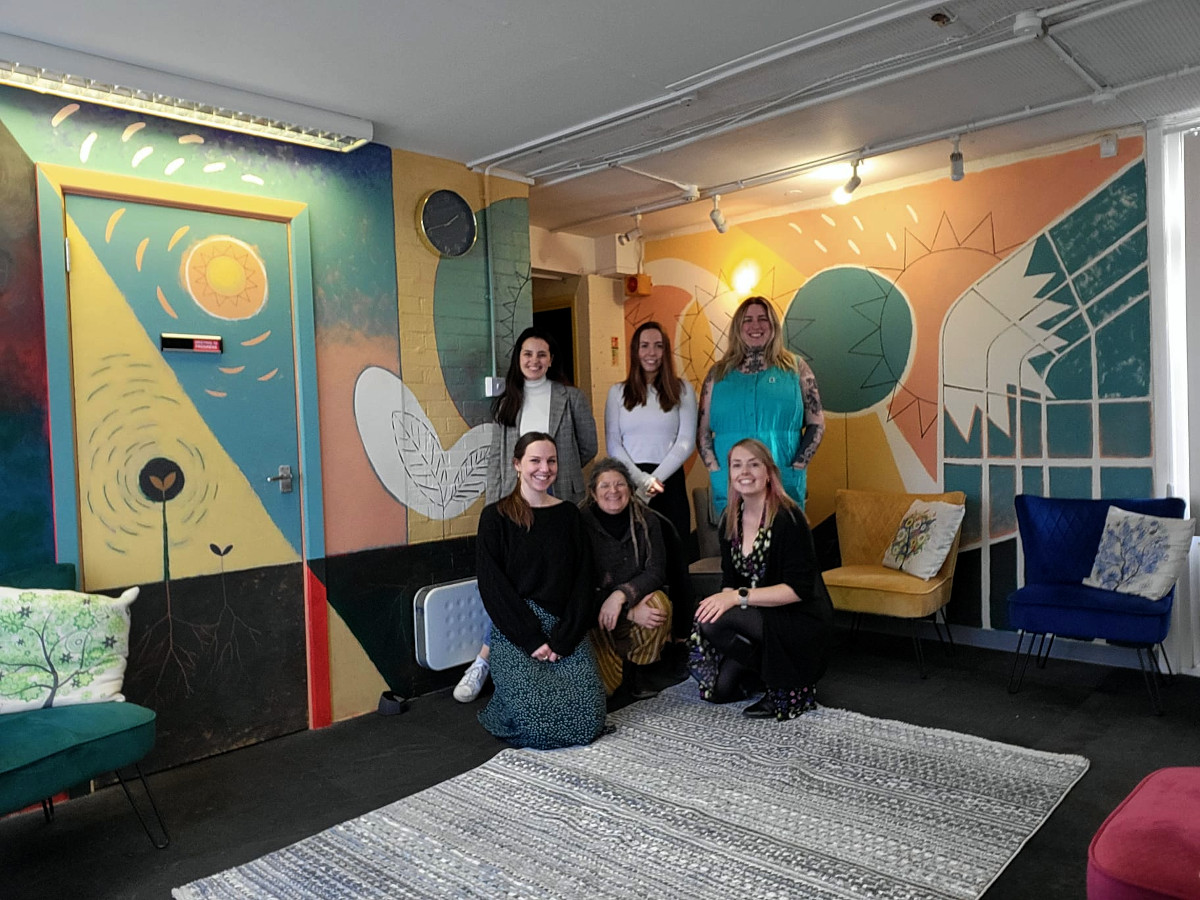 The staff and volunteers gave delighted feedback on the new murals, with one saying: "wow, the mural is amazing! It's made such a huge difference to the space, I can't thank you enough!". Alongside the loving care that the team put into choosing new furniture and soft furnishings, the result was a much warmer and more inviting space.
I would like to extend my thanks to the OSARCC team for commissioning this project, and I hope the murals help contribute to the centre's healing work into the future. To support OSARCC's vital work you can buy their merch online.
If you run a space which could benefit from some brightening up, or would be interested to collaborate on a placemaking project as a designer, drop me a line for an informal chat.